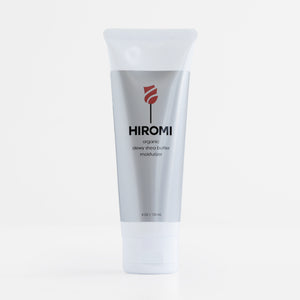 La Peau Rose
Organic Dewy Shea Butter Moisturizer
Sale price Price $60.00 Regular price
Hiromi's creamy and rich formula is luxurious and nourishing that also provides your skin with the essential nutrients it needs to stay healthy and vibrant. It's enriched with organic shea butter (for vitamins A, E, and fatty acids) and avocado extract (for vitamins A, D, E, antioxidants, and fatty acids). These powerful ingredients are known for their ability to deeply nourish and hydrate the skin, helping to improve texture, soothe dryness, restore elasticity, and promote a healthy glow.
Hiromi's skincare products are free from harmful chemicals and suitable for all skin types (including sensitive and acne-prone skin).
Highlights:
1. Creamy and rich formula.
2. Deeply moisturizes.
3. Shea butter and avocado extract benefits.

Best For:
All skin types especially skin types that don't produce enough oil.

Ingredients:
Purified water, kosher glycerine, shea butter, methyl glucose esther, prepolymer 2, avocado extract, organic jojoba oil, polyquat 81, silicone oil, glucose sesquistearate, cellulose polymer, C12-15, ammonium alkyl esters, cetyl alcohol, rose, lavender, eucalyptus extracts


Directions:
Apply daily as needed onto the face.

Made in USA | 4oz | 1oz