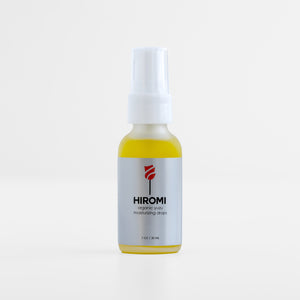 La Peau Rose
Organic Yuzu Moisturizing Drops
Sale price Price $55.00 Regular price
Hiromi's Moisturizing Yuzu Drops are a type of skincare product that is designed to provide an extra boost of moisture to the skin. These drops are typically formulated with a combination of moisturizing and nourishing ingredients that help to restore moisture levels and improve the appearance of fine lines and wrinkles. They can also help to soothe and calm irritated or sensitive skin. Gently massage them onto your face and neck, focusing on any areas that feel dehydrated. They can be used alone or in combination with other skincare products, such as a moisturizer or hydration mask.
Hiromi's skincare products are free from harmful chemicals and suitable for all skin types (including sensitive and acne-prone skin).
Highlights:
1. Extra boost of moisture.
2. Anti-aging benefits that helps wrinkles + calm and soothe skin.
3. Yuzu, green tea, jojoba oil, and avocado extract benefits.

Best For:
Dry skin types.

Ingredients:
Organic green tea, kosher glycerine, cerasin wax, methyl glucose esther, beeswax, Organic jojoba oil, avocado extract caprylic/capric triglycerides, mint, vanilla, herbal extract

Directions:
Apply on dry areas or use small amount all over face. Can be mixed with any of Hiromi's moisturizers.

Made in USA | 1oz