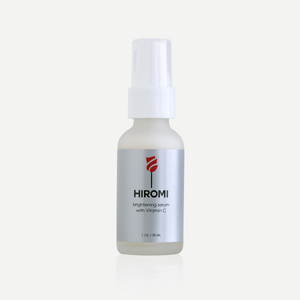 La Peau Rose
Organic Brightening Serum with Vitamin C
Sale price Price $85.00 Regular price
Hiromi's serum is an effective formula that brightens, firms, hydrates, and improves skin elasticity. Vitamin C is an antioxidant that helps to reduce the appearance of fine lines and wrinkles, while also brightening, fading dark spots, and evening out skin tone. Great for people with acne, rosacea, and eczema. Treat your skin to the nourishing benefits of her Organic Brightening Vitamin C Serum, and enjoy a brighter, more radiant complexion.
Hiromi's skincare products are free from harmful chemicals and suitable for all skin types (including sensitive and acne-prone skin).
Highlights:
1. Brightens dull and uneven complexion + fades dark spots.
2. Anti-aging benefits.
3. Vitamin C and green tea benefits.

Best For:
All skin types especially dull and uneven complexion.

Ingredients:
Organic green tea, rice peptides, glucose, sesquistearate, kosher glycerine, ceramide 2, marine colloid, caprylic/capric triglycerides, guar, lactylate, retinyl palmitate, vitamin C lipid ( terahexydecyl-acsorbate), methyl glucose esthers, silicone oil, polyquat 81, sodium benzoate, rose ether, almond honey, vanilla

Directions:
After cleansing, dispense 1-2 pumps and gently massage onto the face. Can be combined with any of Hiromi's moisturizers.

Made in USA | 1oz