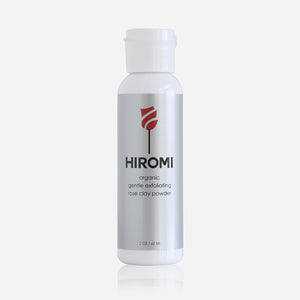 La Peau Rose
Organic Gentle Exfoliating Rose Clay Powder
Sale price Price $36.00 Regular price
Rejuvenate and exfoliate your skin by adding Hiromi's Rose Clay Powder to your Gentle Cleanser and gently remove dead skin cells, dirt, and impurities, revealing a brighter and more radiant complexion. Her Rose Clay Powder is made with special Peruvian clay that offers a wide range of benefits including detoxifying, exfoliating, soothing inflammation, brightening texture, and nourishing your skin.
Hiromi's skincare products are free from harmful chemicals and suitable for all skin types (including sensitive and acne-prone skin).
Highlights:
1. Smoothes and brightens the skin's complexion.
2. Peruvian clay powder benefits.
3. Safe for everyday use.

Best For:
All skin types especially clogged, congested and dull skin.

Ingredients:
Zinc oxide, organic green tea, epigallocatechines, peruvian clay, sodium bicarbonate, iron oxides 

Directions:
To use, simply mix a small amount of the powder with water or your Hiromi's Gentle Cleanser, then massage gently onto your face in circular motions. Rinse thoroughly with luke-warm water and follow with any of Hiromi's moisturizers for best results.

Made in USA | 2oz | 1oz